Featured
Powered Height-Adjusting Feature Added to IAC Workbenches
IAC Industries introduces powered worksurface-height adjustability to the company's Pro Series line with the 960 Workstation, and the company's flagship Dimension 4 Workstation . The focus on ergonomics provides a platform on which assembly processes take place in greater comfort and efficiency for the operator, which in turn generates greater productivity. Adjustable height workstations also allow greater versatility in the workplace as tasks change from processes that benefit from either as sitting a standing position.
Smart Mobile Stations
More than a mobile cart. SMS are a new way to take your workstation wherever you have a task. Want your computers, printers and other powered equipment always close? Smart Mobile Stations are for you!
Eclipse™ Steel Casework
Our new line of steel casework, wall cabinets and reagent racks make furnishing laboratories efficient and flexible. Eclipse is the name because that is what they do to conventional casework.
Industrial Workbenches & High Productivity Workstations
From rugged Workmaster™ workbenches to highly versatile Dimension 4 Modular Workstations, IAC Industries delivers industrial furnishings made for productivity and long life.
A Vast Choice of Workbench, Workstation & Accessory Variety
Assembly Magazine Cover Story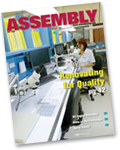 ...featuring the role of IAC Workbenches in the productive makeover for industrial manufacturer, Cicoil Corporation.
Price Quote Within 48 Hours
No purchase necessary. Simply select products and submit for your quote within 48 hours.
Specification Questionnaire
Comprehensively identify the requirements of your workbench needs.