Featured
Multi-Task System Adds Utility, Storage and Productivity to Existing Workbenches
IAC Industries introduces a new way to add storage and utility to workbenches with the company's Multi-Task System I (MTS). The base MTS is a 3-upright frame that mounts to the rear of a bench worksurface or workbench frame (depending on model), onto which are attached any of the many storage, shelving, lighting and productivity accessories offered by IAC. An MTS enables users to retain more worksurface real estate for productive activities while providing abundant space above, yet within arms' reach.
Smart Mobile Stations
More than a mobile cart. SMS are a new way to take your workstation wherever you have a task. Want your computers, printers and other powered equipment always close? Smart Mobile Stations are for you!
Eclipse™ Steel Casework
Our new line of steel casework, wall cabinets and reagent racks make furnishing laboratories efficient and flexible. Eclipse is the name because that is what they do to conventional casework.
Industrial Workbenches & High Productivity Workstations
From rugged Workmaster™ workbenches to highly versatile Dimension 4 Modular Workstations, IAC Industries delivers industrial furnishings made for productivity and long life.
A Vast Choice of Workbench, Workstation & Accessory Variety
Assembly Magazine Cover Story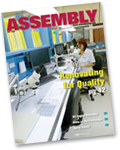 ...featuring the role of IAC Workbenches in the productive makeover for industrial manufacturer, Cicoil Corporation.
Price Quote Within 48 Hours
No purchase necessary. Simply select products and submit for your quote within 48 hours.
Specification Questionnaire
Comprehensively identify the requirements of your workbench needs.