Easily Configure Quick Ship Products Online!
Receive a finished drawing and no obligation price quote
---
Featured
IAC Workmaster™ Storage Cabinet Workbenches are Big on Drawer Capacity
IAC Industries answers the perpetual question, "Where do I put all this stuff?" with the new Workmaster™ Storage Cabinet Workbenches.
Lean Manufacturing with Industrial Workbenches
& High Productivity Workstations
From rugged Workmaster™ workbenches to highly versatile Dimension 4 Modular Workstations, IAC Industries delivers industrial furnishings made for productivity and long life.
Assembly Magazine Cover Story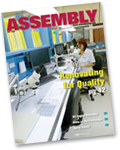 ...featuring the role of IAC Workbenches in the productive makeover for industrial manufacturer, Cicoil Corporation.
More IAC Case Studies
Price Quote Within 48 Hours
No purchase necessary. Simply select products and submit for your quote within 48 hours.
Specification Questionnaire
Comprehensively identify the requirements of your workbench needs.