Moveable Corner Workstations with Clutter-free Cable Management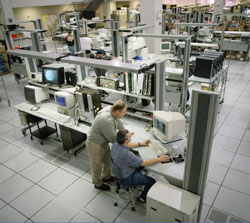 The main production floor at Camtronics Medical Systems (Hartland, Wisc.) employs an inventive arrangement of Dimension 4 workstations with connecting radius-back corner worksurfaces to achieve a practical, yet always adaptable, solution for assembling and testing the company's various product lines.
The company is a leading developer of high-resolution imaging and information management technology for cardiology; its sophisticated imaging and network systems are used in hospitals and clinics worldwide. All of the computer components that comprise Camtronics' cardiac imaging systems must be assembled in an ESD-safe environment and tested to a high degree of reliability. Much of this work involves the use of networked equipment to test computer components and to validate system software. Thus, between the systems being assembled and the systems used to test them, there are a lot of cables, including fiber optics, for power, video, Ethernet, etc. to contend with throughout the production area. When the company broke ground last year on its 35,000-sq. ft. expanded manufacturing facility, where the new production workstations are situated, all of the power and networking cables were placed in a raised floor system to wiring clutter.
"We wanted to keep everything looking professional and clutter-free…"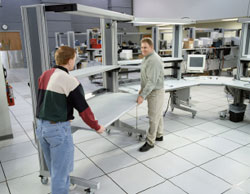 Camtronics' new production workstations consist of ESD-protected Dimension 4 worksurfaces 72" long and 36" deep – sometimes two worksurfaces aligned side by side, with a 36" x 36" corner assembly at one end – sometimes one worksurface on either side of the corner assembly. Configuration depends on the task and product line assigned to the workstation, but each one is equipped with total-locking casters. Total-locking casters not only don't roll when locked but also don't swivel, providing a sturdy and stable workstation.
The idea behind the casters, says Camtronics manufacturing engineer Mike Nerad, is floor plan flexibility, and casters add to that objective by allowing instant mobility if needed. "We want to be able to rearrange our manufacturing floor as often as we need to," he says, "without having to dismantle the benches. This way we can move them with all the equipment we use still on them."
Built-in cable management
The wiring clutter problem is solved with a combination of floor-mounted plug-ins for power and communications, IAC's Standard Electrical System (SES) with interconnects pre-wired into the workstation uprights, grommet cutouts in the worksurfaces, and the Cable Management Enclosures of IAC's LAN Stations adapted for use on Dimension 4. The horizontal Cable Management Enclosures are mounted to the rear of the worksurfaces to contain power cords and cables neatly. The metal enclosures are 13-in. tall and almost three inches deep, and hinged at the bottom so they can be pulled open for easy access to cables and connectors.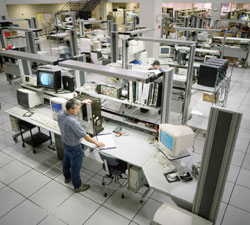 "We wanted to keep everything looking professional and clutter-free, with no stationary power poles and nothing hanging from the ceiling," Nerad explains. Bundling wiring within the cable enclosures and running utilities through floor outlets supports that goal. There are no partitions between workstations, and at many of them, computers are suspended beneath the worksurface on CPU holders, adding to the clean, open look.
One Camtronics technician sits at each mobile corner workstation – there are 22 of them – and each individual work area has an Internet-connected and internally networked computer. Work cells are organized according to product line – including specialized areas focused around the network components of its industry-leading VERICIS® for Cardiology Image and Information Management network. There is also a large open area consisting of two facing U-shaped cells; this area is devoted to pre-production tasks, software engineering, customer service, and training. Anyone who needs to use it, says Nerad, has access to this open workspace.
Sturdiness an essential requirement
In addition to the ability to add casters, sturdiness was a definite requirement for workstations when Camtronics' facility and manufacturing managers began looking at what was available. Production workstations by three manufacturers made the preliminary cut, and were brought into the facility for evaluation by the workers who would actually be using them.
"Some of the benches that we looked at deflected when you put a lot of weight on the countertop. The whole thing would bend and wobble," Nerad said. He noted that employees voted almost unanimously for IAC's workstations. Corners of every worksurface have extra reinforcing where the legs and casters are attached, for extra strength.
Mike Weix, a salesperson for IAC Gold Dealer Com-Kyl, originally brought Camtronics' application requirements to IAC's attention, says rep Gary Schmidt of Assembly Resources (Milwaukee, Wisc.) The two firms worked together with IAC Sales Application Manager Gary Cowham on the specifications, with assistance from John Notti and IAC's engineering department.
Overall, Camtronics has approximately 90 Dimension 4 workstations throughout its facility, in the information systems and repair departments as well as manufacturing.
Camtronics Medical Systems was founded in 1986, and is a subsidiary of Analogic Corporation, Peabody, Mass.