Suspended Automation Gets Rockwell's Assembly in Gear
Rockwell Automation, makers of industrial control and automation products, recently came to IAC Industries to upgrade the manufacturing division of their Mequon, Wisconsin facility. Although Rockwell has had IAC benches installed throughout various areas of their facility for over two years, one of their manufacturing divisions was about to facilitate a new product line that would require upgrading their current workstations.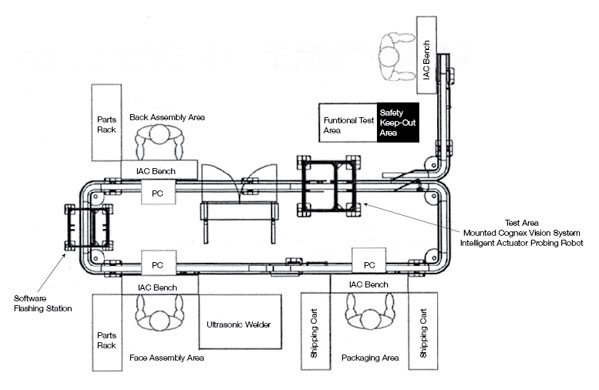 Engineers Paul Krause and Matt Garrison were in charge of the new product line that involved the Assembly, Automated Test and Packaging of operator interface modules for their drive units. Assembly was currently equipped with individual workstations where parts were assembled and then placed on a pallet, ready to be picked up for testing. After products passed testing, they were sent to Packaging. This process required additional workers to pick up assembled products and walk them over to a separate work area for Automated Testing.
Krause and Garrison were looking to integrate the assembly and Automated Test divisions of this manufacturing process. Their objectives were to have less handling of the materials by linemen and to streamline the process by reducing the WIP (work in progress). The Rockwell engineers decided to purchase new benches and install some type of automated conveyor system that world help to consolidate the line.
After researching a few competitor bench companies which resulted in conveyor options limited to a gravity feed conveyor or rollers on belts, Rockwell contacted IAC's Manufacturing Representative, Gary Schmidt, of Assembly Resources. By this time, the engineers knew they were looking to find a bench that would allow a suspended conveyor belt to pass either next to or above the assembly line. A close proximity factor was essential.
Schmidt recommended installing IAC Industries D4 workstations with uprights that would allow a conveyor to pass directly next to the work surface (through the uprights). The unique 2-piece construction of the D4 uprights allowed the engineers to successfully integrate Assembly and Automated Test stations by a single, continuously operating, suspended Flexlink™ chain conveyor.
This was accomplished by using custom D4 benches and creating an opening in the upright for the conveyor to pass through. Electrical outlets were incorporated in the top of the D4 uprights to accommodate the opening. IAC's standard 36" D4 bench was also customized to 12" in depth in order to reduce the space between the assembly line and individual worksufaces (conveyor pallets are now only 12 inches from operator).
The custom D4 workstations were finished to aesthetically complement other D4 benches previously installed in the facility. The new floor plan and D4 workstations eliminated the need for workers to carry parts from Assembly to Test, subsequently reducing the required manpower by 1 man per shift. Now, a continuous suspended Flexlink™ chain conveyor brings lightweight parts through the custom D4 workstations in Assembly where the operator interface modules are assembled.
Once assembled, the modules are placed back onto pallets hanging from the chain conveyor which is then fed to an unmanned test station. The unmanned test station powers itself up automatically as product is moved through and inspects the modules via a Machine Vision System.
When asked about the decision to purchase custom benches from IAC, Rockwell engineer Paul Krause commented, "IAC was the only bench company that could come up with a finished product to meet our needs. IAC provided a nice shallow solution from back of upright to bench and they solved our conveyor challenge."