Personal Attention and 'Quick Ship' Thinking
Won Nokia Business for IAC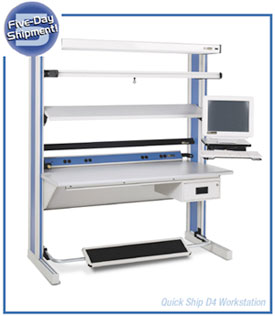 Nokia Mobile Phones held an open house for a new building at their manufacturing facility located in Ft. Worth. During the open house, Paul Taylor (IAC dealer), took the opportunity to get his foot in the door with Nokia by introducing a chair product line he offered. Through a Nokia engineer contact, Taylor later discovered the company was having difficulties ordering upgrades and getting the right parts for their workstations.
Nokia was also dissatisfied with the competition because their current bench dealers shipped parts without providing any installation support. Nokia was looking for a product line that offered fast turn-around-time on product orders and greater flexibility for upgrades.
Taylor presented Nokia with an overview of IAC benches that would meet their aesthetic and functional needs. The Nokia engineers were interested in several benches from IAC's built-to-order product lines, except for the required long lead times. With a little ingenuity, Taylor came up with the idea to sell IAC's Standard D4 workstations with upgrades and accessories from IAC's Quick Ship product line.
Taylor felt the Quick Ship product line offered enough variety to build workstations to Nokia's desired functionality. With the Quick Ship program, Nokia would also get their benches within 5 days instead of 4-6 weeks.
Taylor was able to win the confidence of Nokia engineers and ultimately over 300 benches worth of business by personally delivering ordered parts and assembling the benches himself. Taylor also educated their staff on the product and took the time to walk Nokia engineers through the installation process. Scott Livingston, Factory Automation Specialist for Nokia, stated, "We had worked with two other bench companies in the past, sometimes with mixed results. Paul Taylor and IAC were able to provide everything we needed... excellent service, a flexible workstation, and delivery that suited our fast installation schedules." Thanks to Paul Taylor, IAC has another customer success story under its belt and a good potential for duplication in Nokia's Mexico and Brazil manufacturing facilities.