Selecting a Workbench or Workstation
Application and Function
Dimension 4 Premium Workbenches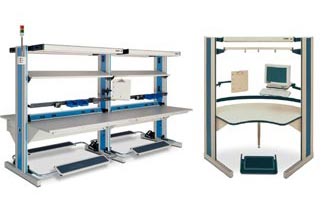 Dimension 4 Premium Workbenches are ergonomically designed to fit the people who work at them. Equipped with adjustable components, and with production accessories situated within easy reach and sight line, they help boost productivity by eliminating wasted motion, cluttered work areas, and operator fatigue. They have a clean and stylish appearance, and their modularity allows complete flexibility in arranging premium workbenches. When configured in popular "U-cell" layouts, they will accommodate many people performing a variety of tasks for the most efficient use of available space.
---
LAN Stations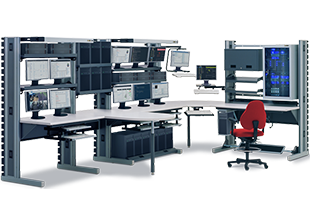 Based on the Dimension 4 premium workbench, LAN Stations feature integrated cable management. They are the ideal space saving system for organizing and protecting networked computer systems. Ideal for multi-CPU applications such as communications or digital production suites. LAN Stations are fully adjustable with a full complement of ergonomic accessories; they also can share many Dimension 4 accessories.
---
Pro Series Premium Workbenches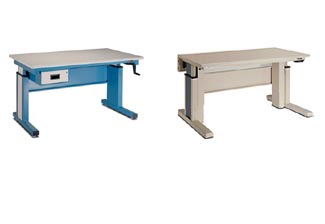 The Pro Series is especially suited for arranging continuous rows of standalone premium workbenches. All models are height adjustable— with many electrically or hydraulically actuated. The Pro Series offers a full range of optional accessories, including several sizes of frame-mounted drawers and cabinets, full-length electrical raceways, and ESD-safe worksurfaces. These benches can be enhanced with instrument shelves or MTS upper structures.
---
Workmaster™ Series Workbenches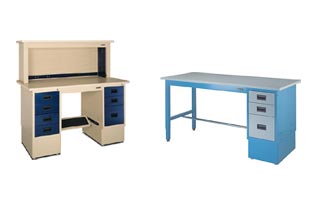 Treston IAC's top quality versions of the industrial workbench. The Workmaster™ Series offers a broad selection of easy-to-assemble industrial workbenches for lab and technical environments. Hundreds of pre-configured models are available—a wide variety of optional drawers, cabinets, adjustable shelving, fluorescent task lighting, mechanical and electrical components, and color choices allow endless customization.
---
Clean Room Benches
5000 Series tables are manufactured specifically for clean room use, featuring Class 100 worksurface sealing. They feature sturdy tubular steel frames that are vibration free, and all dust-collecting areas have been eliminated. Height adjustability is maintained through the use of extrusive seals on the table's extendable legs.
---
Selection Guide
The industries into which Treston IAC's technical premium and industrial workbenches and accessories can be used are as varied as the tasks you may find for them. Treston IAC premium and industrial workbenches are the ideal solution wherever function, aesthetics, or both are desirable in the work place … in any office or production facility where workers are either seated or standing while doing their jobs … and where ordinary office furniture can't perform to the same technical or capital equipment standards as modular, adjustable premium workbenches or sturdy industrial workbenches.
| Your Need | Treston IAC Solution |
| --- | --- |
| Continuous shop reconfiguration or expansion (job shops, short production runs, continuous work flow assembly lines, fast growing companies). | Modular, reconfigurable Dimension 4 Premium Workbenches. |
| Workbenches to accommodate many different users on a daily, weekly or monthly basis (three-shift shops, continuous flow assembly, constant reconfiguration, or different size products in assembly or test). | Independently height-adjustable worksurfaces that are hand-cranked or electric pushbutton Dimension 4 Premium Workbenches or Pro Series Premium Workbenches. |
| Industrial workbenches to accommodate many different users on a daily, weekly or monthly basis (three-shift shops, continuous flow assembly, constant reconfiguration, or different size products in assembly or test). | Dimension 4 Premium Workbenches or Pro Series Premium Workbenches. |
| Adjustable worksurfaces at less expense. | Adjustable worktables and leg extension options on workbenches – Pro Series (900 Series) and Workmaster™ Series. |
| You have a job shop or handle electronic parts assembly operations calling for continuous work flow. | Double-sided modular workbenches with slide line rails or conveyors – Dimension 4 Premium Workbench. |
| Access to overhead suspended tools, CRTs, keyboards, paperwork, manuals, and other job-related items that should be nearby but not in the way. | Suspended tool trolleys, swing-arm platforms. |
| Multiple electrical circuit requirements, especially when independent circuits would be desirable for computer or test equipment, and for separating utilities. | Power Distribution System-II (PDS) |
| Safety around corrosive chemicals. | Stainless steel worksurfaces. |
| Equipment to the worksurface itself or vises will be used. | Maple worksurfaces. |
| Storage for toolboxes, expensive equipment such as microscopes, and expensive parts such as computer chips; privacy storage for personal belongings. | Cabinets with lockable doors & drawers. |
| Workbenches capable of accommodating loads of up to 1000 lbs; shelves that will support up to 500 lbs. (evenly distributed weight). | Heavy duty Workmaster™ Series Industrial Workbenches. |
| Class 100 clean room requirements for filtered air and contaminant free working environments on the worksurface; medical laboratory, silicon wafer, microelectronics. | Modular Vertical Flow (MVF) laminar flow accessories for Dimension 4 Premium Workbenches. |